Who can get involved in a QM Texas Self-Study Cohort?
Any Texas-based principal preparation program is eligible to apply for one of our self-study cohorts. Each participating program will form a self-study team including program faculty, affiliated school district representatives, recent graduates, and other stakeholders. EDC-trained peer facilitators support each team throughout the QM self-study process and subsequent continuous improvement planning.
In addition, the QM Center offers a facilitated Professional Learning Community focused on strengthening district-program provide partnerships. This PLC operates separately from the QM self-study cohorts.
What are the steps in the QM self-study process?
Orientation is an EDC-facilitated, ¾-day, in-person meeting that introduces QM toolkit and the self-study process to the new cohort. 
In preparation for the Evidence Synthesis Meeting, each program's self-study team examines program artifacts in relation to the Quality Measures rubric and determines preliminary self-ratings. EDC's QM facilitators offer support. 
The Evidence Synthesis Meeting is a two-day, in-person meeting led by EDC facilitators, in which the cohort of self-study teams meet to share about their programs and serve as one another's critical friends. 
Each self-study team shares final self-ratings data and examples of level 3-4 evidence with the EDC team for organization and interpretation.
The Review of Findings Session is a virtual, half-day, EDC-facilitated discussion of the cohort programs' common strengths and opportunities. 
All programs in the cohort are invited to join a continuous improvement focused professional learning community of Texas-based principal preparation programs. 
What is the timeline for future cohorts?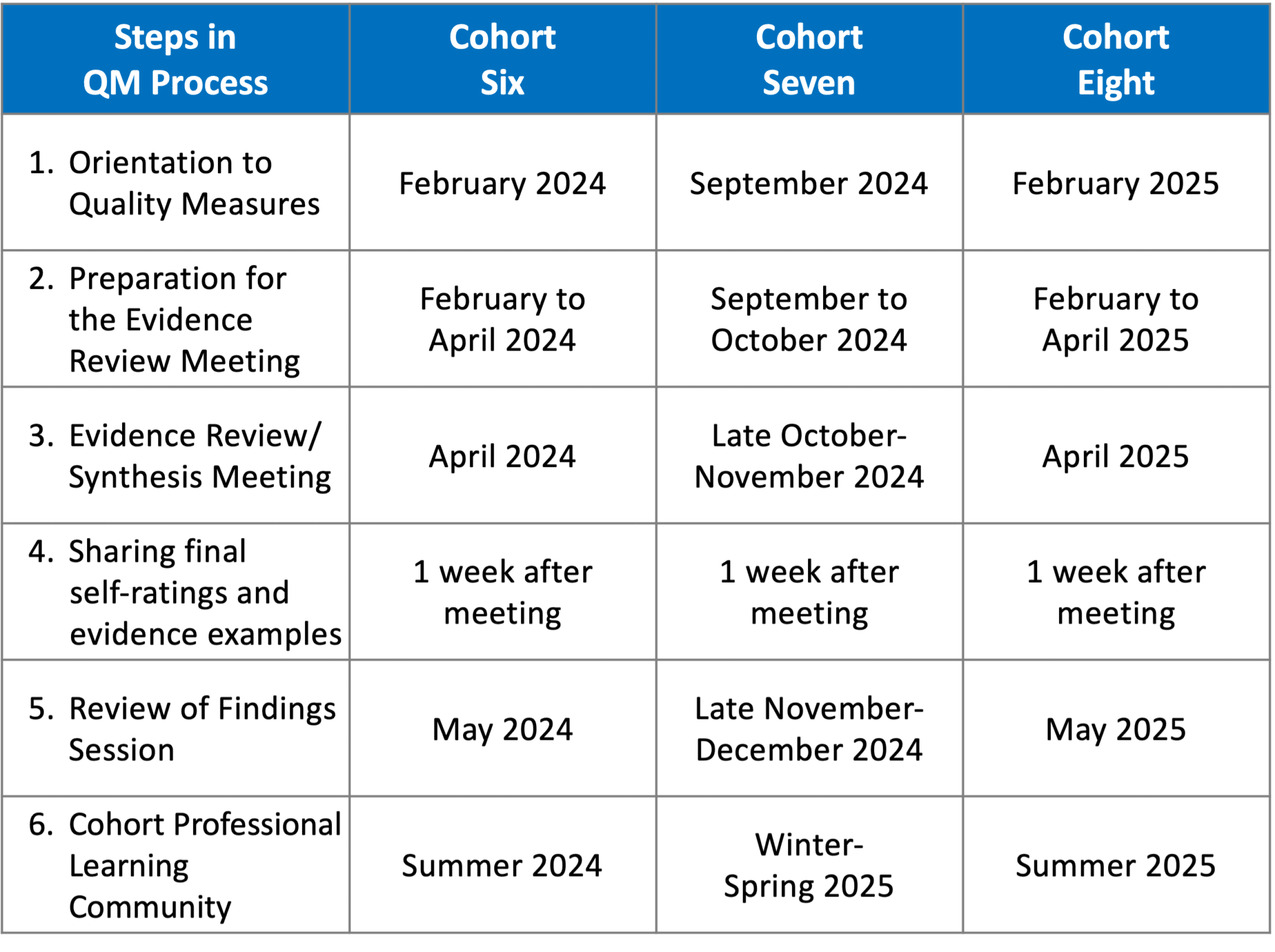 Is there a cost to participate in the QM Self-Study?  
Participation is free. EDC provides trained facilitators and will support travel costs for a subset of each program's self-study team to attend the in-person meetings.   
Each self-study team member should expect to devote 12-30 hours to the QM self-study process over the span of 4 months, including 2 in-person meetings in Texas.  
I'm interested in joining a QM Self-Study Cohort. What's next?
Complete the Interest Form and someone will get in touch with you within 1-3 business days.
Does the QM Center offer other supports, besides the Program Self-Studies?
Yes! The QM Center offers a facilitated Professional Learning Community (PLC) focused on strengthening principal preparation partnerships between districts and program providers. All Texas-based principal prep programs and their district partners are eligible to apply.